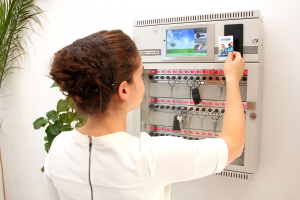 The KeySafe System is an intelligent key management and storage system, which is for safekeeping, automated management of keys of buildings, cars and other valuables. The system combines key cabinets, cabinets with storage boxes, compartments and the management software, that can be connected to the ProxerNet building automation IP network and able to work with other systems.
The KeySafe® is a smart safety key-store cabinet, which allows a high safety key management with personal proximity card, PIN code, NFC or optional with fingerprint reader identification. The cabinet locks each key one by one in the slots and lets nobody to take away any of the keys, unless the person has permission to up them. It is possible to connect it to a computer network and to check remotely who and when took which key and for how long time. It can be integrated into a building management system as well.
Features:
Intelligent, secure storage with proximity card, PIN code, and/or optional fingerprint opening
The cabinet can be opened only with authorized ID, access is fully monitorable
Can be connected to a PC via Ethernet - Wi-Fi option, for management, reports, logs
Multiple cabinet key management, systemic management of the connected devices to the Ethernet Network
Recordable data: person, time, keys
Define access rights to users individually,  can be given and withdrawn by keys, via Internet also
Online-offline communication: automatic or mixed mode communications (itself is also workable – can be programmed through    
the integrated touchscreen industrial PC and/or with the ProxerNet software on the remote network.)
Management software of ProxerNet, which can cooperating with the other modules (e.g. access control, time-attendance, etc. 
KeySafe, ProxerSafe presentation
 >  ProxerSafe - smart key and value storage system video >>
 >  ProxerNet software introducion video >>
Continue >>
61 item on the list
Items per page :
View :
(Current direction: default)
Default


Inline HTML
Main picture
Product Name
pdf
Product number
Manufacturer
Net unit price
In stock

KeySafe Lock - intelligent, safety key cabinet, with RFID-NFC or biometric identification
-
171124
Procontrol
Request an Offer

Orderable

ProxerSafe Box Rack intelligent safety value storage cabinets - with combinable box and key holder modules, in Rack system
-
100711
Procontrol
Request an Offer

Orderable

ProxerSafe Mini small sized cabinets with key holder plugs and boxes for office use
-
107300
Procontrol
Request an Offer

Orderable

ProxerSafe Box 6 Mini
-
107226
Procontrol
Request an Offer

Orderable

ProxerSafe Box PSB-XXL-16-FN-EM-Bio-E-G-P-UPS value storage cabinet with 16 boxes and fingerprint reader
-
150199
Procontrol
Request an Offer

Orderable

ProxerSafe Box Rack PSBR-12-M Rack module with 12 boxes (W118xH83xD250) with separate doors
-
100722
Procontrol
Request an Offer

Orderable

ProxerSafe-KeySafe Security DEMO cabinet with key holder plugs and distinct sized drawers and boxes
-
141889
Procontrol
Request an Offer

Orderable

Okos kulcsdoboz távoli vezérelhetőséggel, kulcstároló lakat, Smart Keybox2 Igloohome, Bluetooth


-
390394
Igloohome
97 900 Ft+vat

In stock

Keybox 12 intelligent safety keycabinet for 12 keys with RFID reader, Ethernet


-
148021
Procontrol
129 000 Ft+vat

Orderable

ProxerSafe Smart 8 FN-FF-EWi-G-UPS economic, indoor keycabinet

Status: Archive

-
100707
Procontrol

-

ProxerSafe Smart 16-EM-FN-E-T-UPS beltéri dugós kulcstároló, érintőképernyős, offline, teli fémajtó

Status: Archive

-
100705
Procontrol

-

ProxerSafe Smart PSS16- FF-E-G-UPS indoor safety key cabinet with touchscreen operated built-in computer

Status: Archive

-
100704
Procontrol

-

ProxerSafe Smart-PSS24-FN-E -T-UPS indoor key cabinet, touch screen, full door

Status: Archive

-
100732
Procontrol

-

KeySafe Lock 16 key cabinet - keys behind the screen design
-
150151
Procontrol
Request an Offer

In stock

KeySafe Lock 16-FN safety key locker for 16pcs mechanically locked keys
-
171210
Procontrol
Request an Offer

Orderable

KeySafe Lock 24 intelligent key cabinet with metal or safety glass door
-
141883
Procontrol
Request an Offer

Orderable

ProxerSafe Combo PSC-80K-8BS-8RB-FN-HF-Bio-E-P-0D-BT-UPS kombinált kulcstároló szekrény
-
107240
Procontrol
Request an Offer

Orderable

KeySafe Lock 32 intelligent key cabinet
-
142232
Procontrol
Request an Offer

In stock

ProxerSafe-32K-5DR-FN-FF-EWi-P-G-UPS combined intelligent key cabinet with drawers
-
142127
Procontrol
Request an Offer

Orderable

ProxerSafe Box 48 Tower intelligent value storage cabinet
-
100746
Procontrol
Request an Offer

Orderable